one of my first, and earliest loves has and will always be buried treasure...
It wasn't always shiny, and it didn't only come from wooden boxes undersea. Sometimes Value isn't only monetary. Anyone with even the smallest of sentimental tokens knows that.
Sometimes Treasure is a person!(or a whiskered friend) And many times in my life its been a good piece of advice.
There are many reasons Coins made their way into my design aesthetic. They represent so many things good and bad about the world we live in.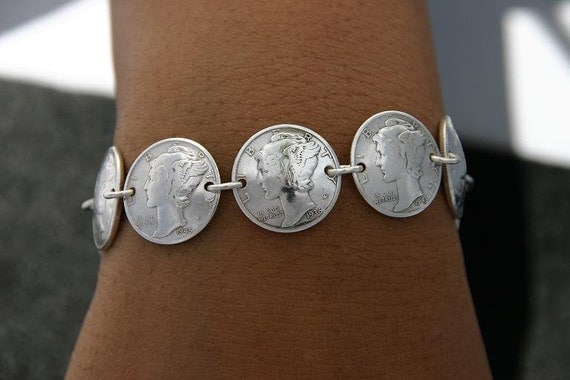 Universal Love Jewelry, Silver Coin Bracelet
ulovejewelry.etsy.com
I've always be enamored with contradictions, and few things in this world are as controversial and contradictory as Money. From my love of buried treasure- which I thought was a love of pirates, pillage & plunder but really turned out to be love of the pursuit- to my grown up responsibilities, few days go by without any cold hard cash passing my hands.
I'm also inspired by how passing along a treasure can convey value- like when you receive a family heirloom as a gift. Sometimes the history or story behind a piece can say so much more than its monetary equivalent.
As coins have started to reappear in fashion again, you can see for as many different forms of currency that exist, there's a fashion inspiration to match!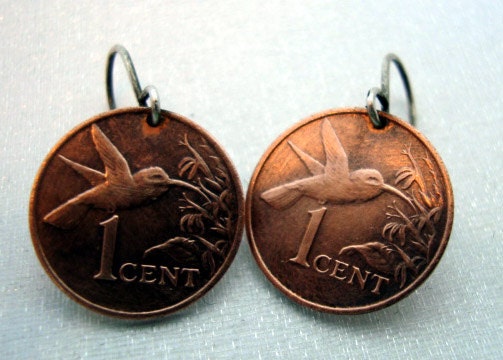 FindsAndFarthings, Copper HummingBird Coin Earrings
FindsAndFarthings.etsy.com
Now unlike the Snake Jewelry Feature, I actually get down on this one. Just not quite like everybody else. Have yerself a looksee:
these 2 being the most recently made. I love how the yellow of the gold pops against bold color or looks regal with basic blacks and whites.
Import Eyedea Coin Pendant
So ladies and gents, do you prefer your cash in hand, or can you accessorize your coinage? I'm actually awaiting a coin shipment - I feel like an antique dealer saying that!- so there will definitely be some new variations soon. I found the coins on ebay in Rose gold!!!
In the spirit of today's theme I leave on this heartfelt benediction:
May All Your Pennies Be Heads Up
coin and map image created by ImportedEyedeas,
with permissions from Tao_Zhyn via Flickr & Iphoto stock photos.